Old-fashioned plum extract that delivers a sour taste!
Kishu no Akahon - Junsei
◆The history of plums dates back many years, and sources show that they were eaten as far back as the Nara period. Plums were provided as military rations in the Sengoku period, and used as nutritional supplements and in times of food poisoning and water poisoning. This traditional folk food is made by squeezing the juice of green plums, then boiling it down. A mere 20 grams of extract is made from 1,000 grams of green plums.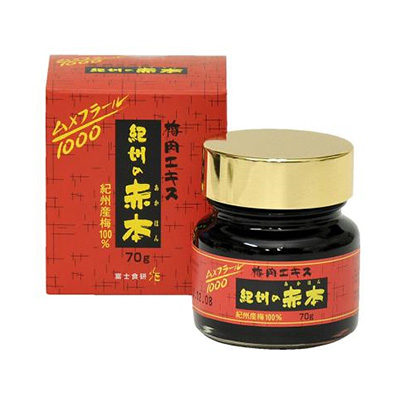 Product name
Kishu no Akahon - Junsei
Ingredients
Japanese apricot
Volume
150g
70g
Nutritional ingredients
(100g)
energy 240kcal, protein 5.7g, lipid 0.1g, carbohydrate 70.8g, Na 28mg, Ca 3,300mg
JAN code
4904250 201018
4904250 202992
RRP
JPY 5,000(Tax-free)
JPY 2,500(Tax-free)
Quality guarantee period
Printed outer package
preservation method
Please keep it in a cool dry place, aviod direct sunlight
Dose moethod
Take a teaspoon full (about 3 g) and lick it as a treat or dissolve it in warm water for a drink.
(The teaspoon is not included.)
※There may be changes in the figures. Please inquire details.