heat up the core of the body
Umeshoga
◆This product uses gingerol and shogaol contained in ginger to heat up the core of the body, which is carried to the extremities by the mumefural contained in Japanese apricot extract, warming the entire body to the core.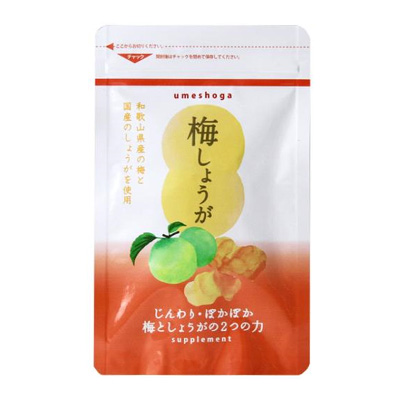 Product name
Umeshoga
Ingredients
Japanese apricot (Wakayama), ginger powder, amylum, olive oil, CaCO3.
Volume
32g(155pellets)
Nutritional ingredients
(per bag)
energy 96kcal, protein 1.5g, lipid 1.2g
carbohydrate 23.1g, amount to 0.02 of edible salt
JAN code
4904250 203166
RRP
JPY 3,600(Tax-free)
Quality guarantee period
Printed outer package
Preservation method
Please keep it in a cool dry place, avoid direct sunlight
Dose method
Take 5~10 pellets with water
※There may be changes in the figures. Please inquire details.