Obtained patent certification-100% Plum Pills
Umeshinjyu
◆This traditional folk food is made by squeezing the juice of green plums, then boiling it down. A mere 20 grams of extract is made from 1,000 grams of green plums.
◆In order to make plum extract easier to take, we spent eight years to obtain patent certification for ease of use and a high concentration of plum components to create these 100% plum pills made from plums and nothing else.
●Monde Selection gold medal since 2014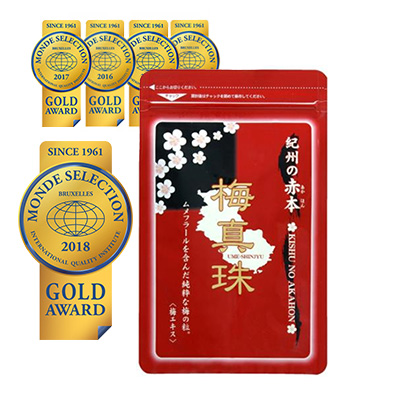 Product name
Umeshinjyu
Ingredients
Japanese apricot
Volume
93g(465 pellets)
31g(155 pellets)
Nutritional ingredients
(100g)
energy 350kcal, protein 6.3g, lipid 3.3g
carbohydrate 73.7g, Na 19.5mg, Ca 1.43g
JAN code
4904250 212175
4904250 211178
RRP
JPY 8,550(Tax-free)
JPY 3,000(Tax-free)
Quality guarantee period
Printed outer package
Preservation method
Please keep it in a cool dry place, avoid direct sunlight
Dose method
Take 5~10 pellets with water per day
※There may be changes in the figures. Please inquire details.