Plum juice powder
【Plum Ingredients】
◆Used plum 5 times concentrated juice to spray-dry for plum juice power. it`s good for the final product that don`t need to add water.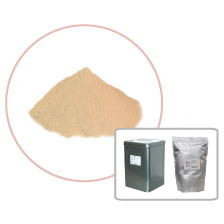 Product name
Plum juice power
Particle size
40 mesh pass
Acidity
12.5% above
Water
7.0%below
Volume
5kg/1.0kg
Package
18L Can/Aluminum pouch
Display example
Plum juice powder(plum juice, dextrin)
Place of production/Varieties
Japan Wakayama prefecture / Nanko-ume
Application
Drink, (refreshing drink, powder drink etc)
Sweet (Western confectionary, seasoning etc)
※There may be changes in the figures. Please inquire details.