Plum juice 100% (frozen)
【Plum Ingredients】
◆Our plum juice has used the fresh Nanko-ume which produced in Kishu Wakayama to squeeze them, to keep its good flavor.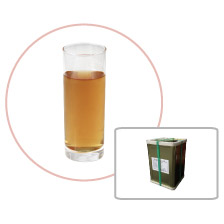 Product name
Plum juice 100% (frozen)
BX
6.0 above
Acidity
3.5% above
Volume
17.5kg
Package
18L can
Display example
Plum juice
Place of production/Varieties
Japan Wakayama prefecture / Nanko-ume
Application
Drink, (refreshing drink, liqueur, syrup, amazake etc)
Sweet (sherbet, jelly etc)
Seasoning processing (pickle seasoning liquid, dressing,ponzu vinegar etc)
※There may be changes in the figures. Please inquire details.