This ginjo has a smooth, light palate. This limited-edition sake
contains gold leaf perfect for special occasions
Ginjo - Kinokuniya Bunzaemon
with Gold Leaf
◆This ginjo sake is made with Yamada Nishiki rice for a refreshing scent and excellent quality. It has a refreshing, light scent appropriate to ginjo sake, and a smooth, light flavor. It has long-lasting appeal and pairs perfectly with food. This limited-edition sake contains vivid glittering gold leaf for special occasions such as ringing in the New Year.
※We recommend to drink at "chilled". Enjoy its refreshing taste and aroma of "Ginjo".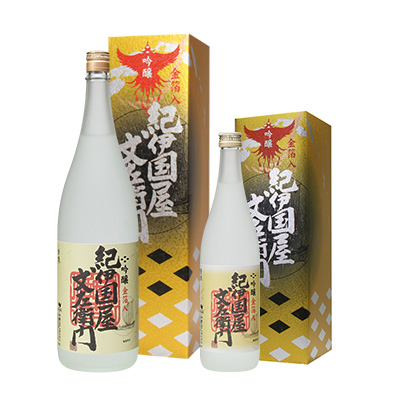 Product name
Ginjo - Kinokuniya Bunzaemon with Gold Leaf
Volume/
Bottles
per case
1800ml/6
Packing box
[KAG-3018]
1800ml/6
720ml/6
Packing box
[KAG-15]
720ml/6
Alcohol percentage
15%
Varieties of rice used
Yamada nishiki100%
Rice-polishing ratio
60%
JAN
code
4904250
136129
4904250
138123
4904250
137126
4904250
119146
RRP
JPY 2,600
(Tax-free)
JPY 3,000
(Tax-free)
JPY 1,300
(Tax-free)
JPY 1,500
(Tax-free)
Release date
On sale
※There may be changes in the figures. Please inquire details.