Enjoy the flavors of this light Kinokuniya Bunzaemon with your favorite dish
Junmai Shu - Kinokuniya Bunzaemon Made with 100% Gohyakumangoku Rice
◆Junmai sake made with 100% Gohyakumangoku rice and carefully fermented at a low temperature results in a robust scent and refreshing, light palate. This 100% Gohyakumangoku junmai sake is best enjoyed at room temperature or warmed (lukewarm to hot) and paired with food. It pairs especially well with simple dishes such as Japanese food (yellowtail and daikon cooked in soy sauce) without overpowering the dish, bringing out a flavor that one does not grow tired of. We recommend to drink at "chilled".
◆This variety won the gold medal in the 2016 and 2017 Kan Sake Award.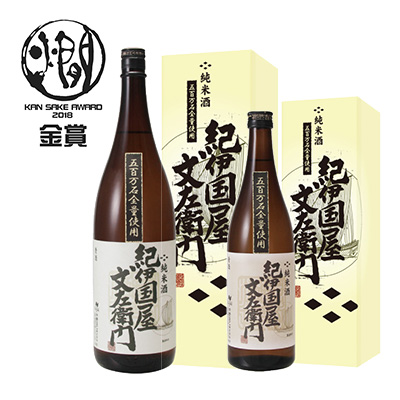 Product name
Junmai Shu - Kinokuniya Bunzaemon Made with 100% Gohyakumangoku Rice
Volume/Bottles per case
1800ml/6
Packing box
[KBG-23]
1800ml/6
720ml/6
Packing box
[KBG-11]
720ml/6
Alcohol percentage
15%
Varieties of rice used
Gohyakumangoku
Rice-polishing ratio
Koji rice:58% / Kakemai:65%
JAN code
4904250
135115
4904250
110143
4904250
136112
4904250
111140
RRP
JPY 2,000
(Tax-free)
JPY 2,300
(Tax-free)
JPY 1,000
(Tax-free)
JPY 1,100
(Tax-free)
Release date
On sale
※There may be changes in the figures. Please inquire details.