In pursuit of a gentle taste and the savory flavor of rice.
Junmaishu "Kinokuniya Bunzaemon"
◆We use Yamadanishiki for koji rice, and Dewa Sansan for kakemai. It is a gentle-tasting junmaishu with a robust savory flavor and sweetness of rice. The sourness brought out in the savory flavor makes this sake superbly drinkable while giving it body and retronasal aroma. We recommend serving it lukewarm. The smooth savory flavor of rice spreads in your mouth.
【Awards】
●JOY OF SAKE 2013 Silver, 2015 Gold
●LONDON SAKE CHALLENGE 2015 Bronze
●LONDON SAKE CHALLENGE 2016 Silver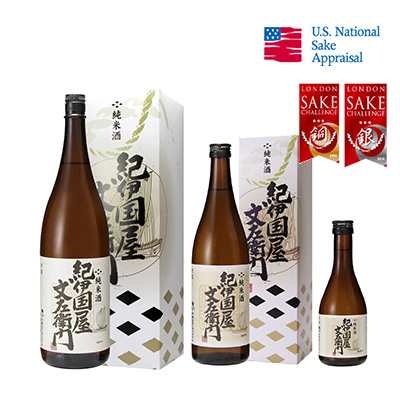 Product name
Junmaishu "Kinokuniya Bunzaemon"
Volume/
Bottles
per case
1800ml/6
Gift box
[KB-25]
1800ml/6
720ml/6
Gift box
[KB-12]
720ml/6
300ml/12
Alcohol percentage
15%
Varieties of rice used
Koji mai Yama danishiki/Kakemai Dewa sansan
Rice-polishing ratio
58% for koji rice / 65% for kakemai
JAN code
4904250
116121
4904250
119122
4904250
117128
4904250
120128
4904250
118125
RRP
JPY 2,200
(Tax-free)
JPY 2,500
(Tax-free)
JPY 1,100
(Tax-free)
JPY 1,200
(Tax-free)
JPY 400
(Tax-free)
Release date
On sale
※There may be changes in the figures. Please inquire details.