Noble sake incense has the elegant taste which is fragrant gorgeously
Daiginjo "Kinokuniya Bunzaemon"《Kuro》
◆「Kinokuniya Bunzaemon」is a prominent merchant representing Wakayama.The brand of Kinokuniya Bunzaemon was named after him."Yamadanishiki (Originally, it came from Hyogo Prefecture)" which is called the 'king sakamai' was polished until it becomes the core of the rice by Rice polishing machine and was steamed ferment at low temperature slowly and carefully.That's why the polished fragrance and taste was brought out of a core of rice.Unquestionably, this is the skill of Touji which can make a first-rate article.It's the top of daiginjyo to be worth "Kokushu" which is made from sensitivity of Japanese.
【Awards received】
●Monde Selection GRAND GOLD AWARD 2012~2018
●The Fine Sake Awards Japan 2014 GOLD AWARD
●London Sake Challenge 2016 Bronze prize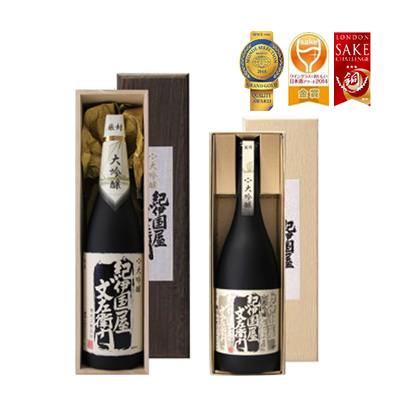 Product name
Daiginjo "Kinokuniya Bunzaemon"《Kuro》
Volume/Bottles
per case
1800ml/6
Giftbox
1800ml/1
Giftbox
720ml/1
300ml/12
Alcohol percentage
16%
Varieties of rice used
Yamadanishiki(Hyogo)
Rice-polishing ratio
35%
JAN code
4904250
131070
4904250
130073
4904250
134071
4904250
108089
RRP
JPY 8,500
(Tax-free)
JPY 10,000
(Tax-free)
JPY 3,500
(Tax-free)
JPY 1,300
(Tax-free)
Release date
On sale
※There may be changes in the figures. Please inquire details.