Noble sake incense has the elegant taste which is fragrant gorgeously.
Daiginjo"Kinokuniya Bunzaemon"《Aka》
◆The fragrance of "Kinokuniya Bunzaemon" «Aka» is modest, but the beautiful and sophisticated Ginjo aroma fills because of the skill of the Toji master. Unlike Junmaishu and Junmai ginjo "KinokuniyaBunzaemon" which emphasizes its umami and taste, we prepared "Daiginjo" which has the gorgeous, elegant ginjo aroma and refreshing taste you can drink it easily.
【Keep refrigerated 】
◆Please keep "Kinokuniya-Bunzaemon Aka" in a refrigerator, however, we forwarding them with a scrupulous care to keep its quality. And please drink as soon as possible.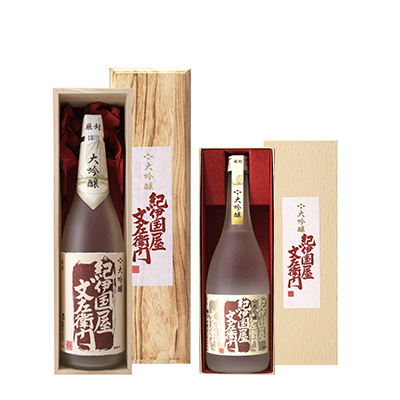 Product name
Daiginjo"Kinokuniya Bunzaemon"《Aka》
Volume/Bottles
per case
1800ml/6
Giftbox
1800ml/1
Giftbox
720ml/1
300ml/12
Alcohol percentage
16%
Varieties of rice used
Yamadanishiki(Hyogo)
Rice-polishing ratio
50%
JAN code
4904250
125079
4904250
124072
4904250
136075
4904250
107082
RRP
JPY 8,500
(Tax-free)
JPY 10,000
(Tax-free)
JPY 3,500
(Tax-free)
JPY 1,300
(Tax-free)
Release date
On sale
※There may be changes in the figures. Please inquire details.