A health food created from green mandarin oranges with patented process.
Atopitan
◆Atopitan is made from specially-cultivated unripe mandarin oranges. The green mandarin oranges are cultivated in mass quantities during the hot summer months, then frozen, dried, and powdered via a special process, then made into pills which are a healthy supplement containing a wealth of hesperidin and narirutin.
◆Please store the pills in a cool, dry place away from direct sunlight.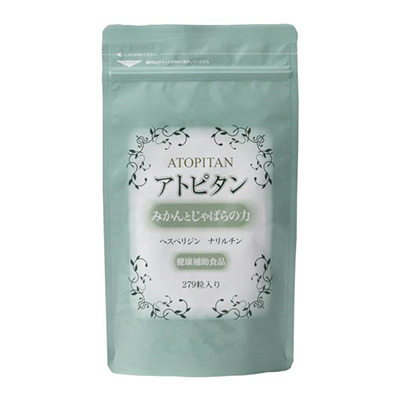 Product name
Atopitan the power of unripe Jabara and orange
Ingredients
Jabara, Unsyu orange(made in Japan Wakayama), Edible refined and processed oils, microcrystalline cellulose, silicon dioxide, stevia , sucrose fatty acid ester
Volume
64g
Nutritional ingredients
(per 9 tablets)
energy 189 kcal, protein 3.4 g, lipid 3.0 g, carbohydrate 52.3 g, Na 5.4 mg(sodium chloride equivalent 0.01 g)
JAN code
4904250 233156
RRP
JPY 3,600(Tax-free)
Quality guarantee period
Printed outer pakage
Preservation method
Please keep it in a cool dry place, aviod direct sunlight.
Dose method
Take 9~18 tablets with water per day.
※There may be changes in the figures. Please inquire details.